---
Share
Let the family know you care by sharing this tribute.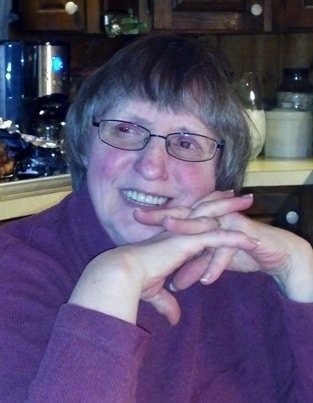 Beth Harrison Schneider, 77, of Jonas Ridge N.C. and formerly of Statesville passed away peacefully in the arms of the Lord on Feb. 6th 2014 at Gordon Hospice House in Statesville after residing with her son (David) during her short illness of cancer. Memorial services celebrating the life of Beth will be held at 2 p.m. on Saturday, Feb. 22nd at Jonas Ridge United Methodist Church, receiving friends from 1-2 p.m. before the service.
She was born Jan 13th 1937, in Madison Wis. to the late Raymond Harrison and Shirley Shaffer Harrison Hanson. She was a graduate of Fort Atkinson High School in Wisconsin, and graduated college from the Layton School of Arts in Milwaukee, Wisconsin.
She was employed as the financial secretary for 27 years of Gingercake Recreation Club and chose to retire in Dec. 2013 due to her sudden illness. Previously she worked as a professional packer at Furst McNess Co. in Statesville, and in earlier years she was a commercial artist, housewife, and an art teacher at Riverside Elementary School in Ft. Lauderdale Florida. She was of the Methodist Faith. Among her many contributions to her community she helped found the Jonas Ridge Fire Dept Ladies Auxiliary, and performed much volunteer work, helping people in need in the mountain community.
On Feb. 8th 1958, she married surviving husband Claude Jacob Schneider in Fort Atkinson, Wisconsin Methodist Church. She was a devoted wife, mother, grandmother, and friend who loved her family dearly. She was an author/illustrator of the children's books, Daily Blessings and Bedtime Prayers. Her hobbies were quilting, sewing, cooking, catering, collecting antiques, and hosting events at her home and in the community. She had a love for all of God's creations and enjoyed hiking, observing nature, picnics, bird watching, and gardening.
Along with her parents, Beth was preceded in death by her daughter Laura Diedrick, brother Dale Harrison, stepfather Henry Hanson, and brother-in-laws Bill Hodge, Art Schneider and Joe Schneider.
In addition to her husband Claude, Beth is survived by a daughter, Jenny Banner of SC, a son, David Schneider (Vickie) of Statesville, and five grandchildren, Tiffany Plemmons (Ryan), Bonnie Banner, Robin Banner, Amy Schneider, and Dale Schneider. Also surviving are her sisters Beverly Harrison Hall and Judy Hanson Leslie (Hank) and their families, sisters-in-law Rita, Pat, Joye (Gary) and their families, and son-in-law Tom Diedrick all of Wisconsin. Special friends include Linda Slate, Julie Braswell, Ellen Johnson, Damien Miller, Will McLachlan, John Bates, and all of her dear friends in Gingercake and Jonas Ridge. Her beloved cat, Purrcy, remains to keep her chair warm.
A memorial celebration service will be held at 2 p.m. on Saturday, Feb. 22nd at Jonas Ridge United Methodist Church. 8241 Buckeye Hollow Rd., Newland NC 28657. Pastor Keith Nichols and Rev. Edwin Neff will officiate.
In lieu of flowers, Memorial contributions may be made to: Jonas Ridge Fire Dept. – Ladies Auxiliary,P.O. Box 31,Jonas Ridge, NC 28641-0031; Jonas Ridge United Methodist Church, P.O. Box 370, Newland NC 28657-0370; Gordon Hospice House, 2347 Simonton Rd., Statesville, NC 28625.
Carolina Cremation of Salisbury and Charlotte, North Carolina is assisting the Schneider family. Online condolences may be made at www.CarolinaCremation.com