---
Share
Let the family know you care by sharing this tribute.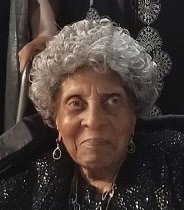 Florine Lea, age 95, peacefully fell asleep in death at her home in Salisbury, NC, on June 14, 2021.
Florine was born August 13, 1925 to the late Ollie and Nathaniel Wilson and was raised in Danville, Virginia. She moved to Englewood, NJ in 1953 then to Salisbury, NC in 2016.
She was preceded in death by her husband, Ross Julian Lea, Sr., sisters, Clarice, Elizabeth, Esther Mae, Jernice, Ruby, Aussie and brothers Joseph and Major.
She is survived by sister-in-law, Celathia Ward (husband, Larry) of Lancaster, California; as well as her sons, Ronnie Lea (wife, Barbara) of Salisbury; Ross Lea, Jr. of Land o' Lakes, Florida; Richard Lea of Bergenfield, NJ; and daughters, Christina Lea of Bergenfield, NJ; and Cynthia Lea of Englewood, NJ.; grandchildren, Jana Collins (husband, Curtis) of Kernersville, NC; Jarrett Lea (wife, Lena) of Laurence Harbour, NJ; Corey Lea (wife, Sylvia) of Stone Mountain, Ga.; Todd Lea of Englewood, NJ; and Suni Brown of Englewood, NJ; as well as great grandchildren, Brandee, Korey, Kameren and Nova; and other cousins, nieces and nephews, relatives and friends.
Florine was baptized as one of Jehovah's Witnesses on October 25, 1958 as a member of the Englewood East English Congregation of Jehovah's Witnesses where she remained until later becoming a member of the Salisbury South English Congregation of Jehovah's Witnesses in Salisbury, NC. She enjoyed reading the Bible and talking about it in the ministry to others.
She was a hard worker providing for her family. She was truly loved and will be missed not only by her family but by all who knew her.
Carolina Cremation is assisting the Lea family. Online condolences may be made at www.carolinacremation.com.