---
Share
Let the family know you care by sharing this tribute.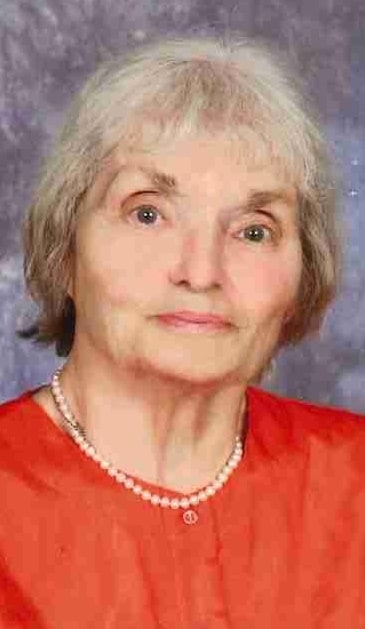 Helen Nelson Robichaud died on May 9, 2023, six days shy of her 97th birthday.
She was born May 15, 1926 in Boston to Tom and Agnes Sharky Nelson. Helen grew up in Boston, spending summers in Prince Edward Island. In Boston, she met her future husband, Joseph Robichaud, at the roller skating rink. They were married in September of 1948, and moved to Alaska where Joe was stationed in the Army. Helen and Joe welcomed the first of their seven children in Juneau, Alaska, and, like so many military families of the time, moved frequently, spending time in Juneau, Ketchikan, Seattle, Boston, Heidelberg, Karlsruhe, and Northern Virginia, before Joe retired and they settled in Virginia. As if raising seven children wasn't enough, Helen enjoyed returning to the workforce when the kids were older, and found a particularly dear friend, Donie Reilly, to share newfound interests, nights out at Bingo at the church, and maybe a little bit of shenanigans. When Joe predeceased her in 1991, Helen sold the family home and moved to North Carolina where two of her daughters and their families resided.
Helen would say her biggest job was raising her family. Her grown children wonder if they could have done as good a job as she did, as they had as few as one to as many as four, with 2.4 being the average, and now understand it's more challenging some days than it looks even with half her number. Helen said she didn't know how to cook when she married, but over the years she learned how to regularly feed nine people countless meals. She was a great baker, too, teaching her daughters a lost art they still practice to this day. Toll House cookies, chocolate cream pie, and cakes from scratch are some of the treats Helen inserted into her family's story, although regrettably, none of her daughters could match her pie crust.
Helen also expressed how grateful and happy she was that her children grew up to be close and to have the great gift of each other. It pleased her that her grown children love and can count on one another, because, as she said, she had been an only child and she wanted them to have each other as they grew older. Her grown daughters acknowledge that what she accomplished with seven was a significant achievement, and are grateful. In accepting the inevitable loss of their mother, Helen's daughters shared that they envision her free from pain and enjoying her new freedom of body and spirit in the way she believed and dreamed. They hope she is welcomed at the pearly gates by those she loved with peace and joy.
Helen was predeceased by her husband of 43 years, Joseph Robichaud, her daughter Therese, son James Michael, and granddaughter Laila. She is survived by five daughters, Anne, Julie, Paula, Linda and Mary, their spouses and partners, sixteen grandchildren, and thirteen great grandchildren.
A memorial service will be held at a later date, as Helen will travel to Virginia to be buried with Joe at Quantico. In lieu of flowers, please make a donation to your favorite charity.
Carolina Cremation of Salisbury is assisting the Robichaud family. Online condolences may be made at www.carolinacremation.com.