---
Share
Let the family know you care by sharing this tribute.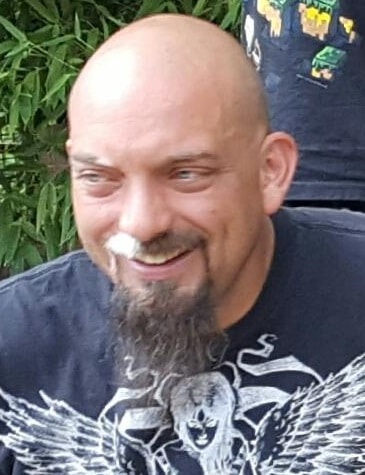 Jason Randall Diem, 37, of Salisbury, passed away October 27, 2016 at Carolinas Medical Center Northeast in Concord, NC.
Jason was born on November 19, 1978 in New London, WI to Randall Diem and Roxanne Drews. At the age of 18, he joined the Army and became a proud member of their Airborne unit. After his discharge, he became an avid wood worker and could fix anything. He enjoyed working on cars and was very good with his hands. Jason loved to cook and was teaching his children to be Sous chefs. He was a devoted father and loved spending time with his 2 children outside.
He is survived by his loving wife, Diane Yearout Diem, of Salisbury; mother, Roxanne Drews of Salisbury, NC; father, Randall Diem of New London, WI; 2 sons, Lucas and Devin Diem, both of Troutman, NC; 2 brothers, Trevor Diem (Lana) of New London, WI; Anthony Tuchscherer of Appleton, WI; 2 sisters, Savannah Burow of Chicago, IL; Angela Diem of New London, WI; mother of his children, Chasney Diem of Troutman, NC; 2 nieces, Kalliegh and Karsin; and 2 nephews, Ashton and Elyas.
Jason is preceded in death by his grandparents, including his Granny and Papa; and loving stepfather, Thomas Tuchscherer.
A private memorial service with friends and family will be held at a later date.
In lieu of flowers, memorials may be made to a account being set up for the children's education. Please check back for an update on the account information.
Carolina Cremation of Salisbury is serving the Diem family. Online condolences may be made at www.carolinacremation.com.
We are connected,
My child and I,
by An invisible cord
Not seen by the eye.
It's not like the cord
That connects us 'til birth
This cord can't been seen
By any on Earth.
This cord does its work
Right from the start.
It binds us together
Attached to my heart.
I know that it's there
Though no one can see
The invisible cord
From my child to me.
The strength of this cord
Is hard to describe.
It can't be destroyed
It can't be denied.
It's stronger than any cord
Man could create
It withstands the test
Can hold any weight.
And though you are gone,
Though you're not here with me,
The cord is still there
But no one can see.
It pulls at my heart
I am bruised…
I am sore,
But this cord is my lifeline
As never before.
I am thankful that God
Connects us this way
A mother and child
Death can't take it away!
~Love, Mom