---
Share
Let the family know you care by sharing this tribute.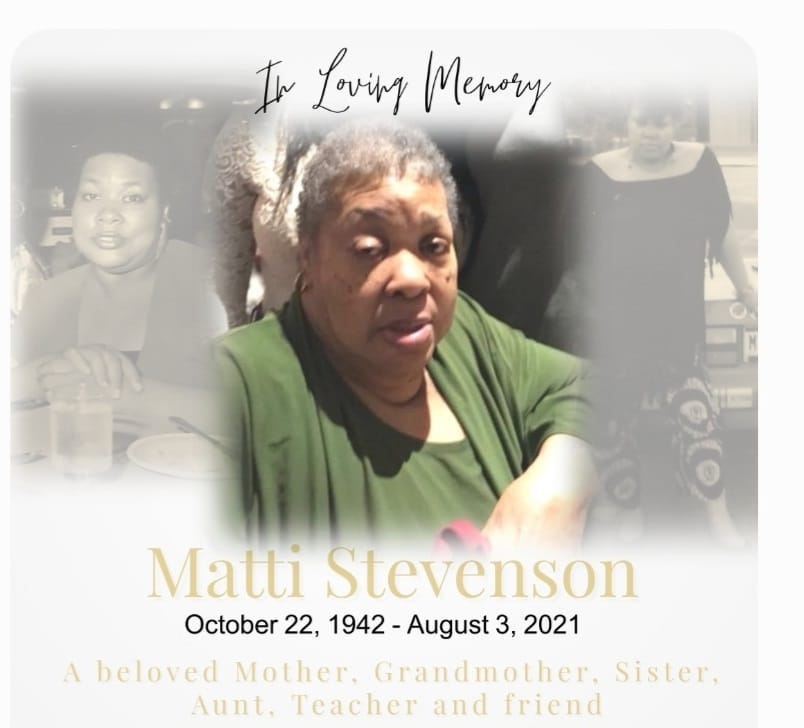 Mattie Luella Parks was born on October 22, 1942 in Muncie, Indiana to Ellawee and Willie Parks. She
was a child when her parents relocated to New York City.
Because of her uniqueness Mattie decided the "e" in Mattie was useless and dropped it decades ago.
In 1960, Matti graduated high school from the School of Fashion Industries. Her sewing skills were so
impeccable that at the age of 16 she was offer a job designing her own clothing line. Due of her young
age, her mother declined the offer.
In 1965, Matti married Rodney Stevenson and their union was blessed with two children (Erik Lamont
Stevenson and Keira Tristine Stevenson).
Matti would later return to school to obtain her Bachelor's degree from Brooklyn College. She had a
mission and a plan to be somebody. Her plan was to become a teacher and her mission was to enrich
inner city children's lives.
When her marriage ended, Matti returned back to school to obtain her Master's Degree from Mercy
College. She was a proud educated woman. Matti was able to execute both her plan and mission and
took teaching to another level.
In November of 2017, Matti moved to Salisbury North Carolina to reside with her son.
Matti enjoyed sewing, baking, traveling, plays, music and reading.
Matti's memories are left to be cherished by her two children and one son-in-law: Erik Stevenson, Keira
Stevenson-Williams(Kevin); her two sisters, Gwendowlyn and Edwina; her seven grandchildren Takeira,
Iaisha, Niya, Kyre, Eriq, Laila and Laneek; her five great-grandchildren Skylen, Carmelo, Arabella, Kamdyn and Camari; her goddaughter Loretta and a host of loving nieces, nephews and dear family and friends.
Carolina Cremation is assisting the Stevenson family. Online condolences may be made at www.carolinacremation.com.