---
Share
Let the family know you care by sharing this tribute.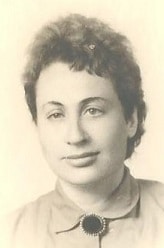 Remembering Michelle Stein Born May 1, 1928 in Israel.
Married to Morris Stein (deceased on July 23, 2014) Nov. 22, 1949. Michelle passed away on April 19, 2015.
Michelle lived a long life that embraced raising 3 wonderful children from her marriage to her soul mate, Morris Stein. Jack Stein, Betty Woertz and Harry Stein enriched her life with 8 grandchildren and 2 great grandchildren.
Born in Israel to Usiel and Yenta Pichota, Michelle had a brother (Benzig – deceased) and a sister (Bella). She served in the Israeli army (as every son and daughter is required) where she met her future husband, Morris.
One of her favorite sayings was "I'm free". She always spoke her mind. She also loved God and this is what kept her going, as He was her strength always.
Michelle always cared about her children. When finances were tight she managed to find a way to treat her children to something special (a movie, a candied apple). Michelle was an outstanding cook and made wonderful cakes and special dishes. Each Jewish holiday was celebrated with a feast of cooked meals that Michelle made.
Michelle, besides being a home maker, worked as a cashier in the markets that her husband operated. She was a very "people oriented" person and was adored by all shoppers who interacted with her. Michelle was also a dog lover. She cared for the family dogs, as if they were her own children.
Michelle loved to shop, dress up for all occasions, and talk about topics from politics, religion and the news. She enjoyed reading books and found peace in reading the Bible. One of Michelle's greatest joys was to garden and grow flowers. She was always working and puttering in the yard. She enjoyed a rigorous program of exercise where she worked out for 4 hours daily to maintain her fitness.
The one characteristic that all of her children remember and cherish about Michelle was her willingness to forgive and to do everything possible to help her family.
She stood up for us to be happy, in every possible way and no matter what – and if she was unable to achieve that, it pained her greatly. She achieved most of this with her undying and endless love – she could not be judged by mere humans who knew far less about deep and true love than she did (or that they ever hoped to). This made her a certified angel. And we, her children, knew that as did her husband who enjoyed that virtuous characteristic vicariously since he lost his own parents in the Holocaust. Now they are together at last. One of her favorite phrases was "oh shucks!" in appreciation and amazement to what God presented to her all around her all the time – and another phrase was "good days are coming!" as a reminder that things one day, whether here on earth or later with our Maker, would finally get better!". For her, we can finally change "good days are coming!" to "Hallelujah!" or her third and favorite phrase of all "Praise The Lord!".
She gave us time when others would not give us the time of day. She gave us love when no one gave us a prayer. While the rest of the world closed it's ears, she not only listened to our dreams, but she helped make them — with her incessant encouragement and support. She reminded us we would all be famous some day and we now are on many smaller levels but none as great as because we had her for a Mom. She gave us a beautiful face to look at because the beauty etched on it was sourced from the same tenderness that filled her heart. She fawned over all of us, for example, stroking our hair gently at every opportunity.
That's why we loved her. We affectionately called her "Ema". She is finally resting her weary bones and God is now affirming to her "Michelle, job well done!". And God is saying "Michelle, while you were on earth, did I remember to tell you enough times that you were both awesome and amazing?" She politely said "Thank you! I couldn't have done it without You" and asked if He would show her to Morris.
Ema, rest in peace!
In lieu of flowers, donations may be made in Michelle's honor to a local food pantry of the donor's choice to help prevent hunger.
Carolina Cremation of Salisbury and Charlotte is assisting the Stein family. Online condolences may be made at www.carolinacremation.com.