---
Share
Let the family know you care by sharing this tribute.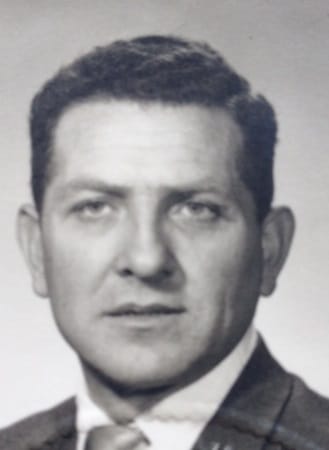 Morris was and is, first and foremost, a survivor. He passed away on July 23, 2014.
Sole survivor of losing his entire immediate family (two sisters, one brother, Mother and Father), and experiencing multiple near-death experiences at multiple concentration camps during World War II. See the story of Morris surviving the holocaust in: http://www.spangdahlem.af.mil/news/story.asp?id=123408816
Survivor of nightmare after nightmare from the PTSD pain of remembering those horrific days.
Survivor of all the hard work in becoming a successful businessman and entrepreneur and rallying our family to pull together and work in the first self-service kosher meat market in Pittsburgh, Pennsylvania.
Survivor of working hard to assure his wife and three children had a comfortable roof over their head. All would all become highly educated with an Associates, Bachelors, and Master's Degree respectively – whereas circumstances in pre-WWII Poland prevented him from being schooled beyond the fifth grade. Born in 1928, his family were devout Orthodox Jews in their community before scampering for their very lives, hiding or fighting as partisans to survive and avoid capture and certain death. All would fail, except Morris – the sole survivor.
Morris was a warrior. When the war was over, he accepted a home in Israel and joined the Israeli Army to fight for its independence in 1948, as a 19 year old.
In Israel he met and was charmed and swept off his feet by the beautiful and loving Michelle Stein – also in the Army. She became his endlessly devoted wife of 65 years and the mother of their 3 children.
Through the years they faced many challenges and set multiple examples for their children – who with no exception, love them dearly, and Morris has unquestionably earned being called their hero – their surviving hero.
He survived a robbery attempt at gunpoint in one of his two grocery/meat-market businesses. Ill-advised, he grabbed the robber's gun and beat him to a pulp – to the dismay of all of us – and to the cheers of justice long before in-store videos were invented.
He earned every dollar he made through hard-work, rallying his family to work together and help in every way, and through a business acumen made up of avoiding waste, offering customers quality meat and service and enjoying his relationship with customers and those whom he purchased goods from – be it grocery warehouses, meat-packers, chicken and egg farms. But most of all he enjoyed bantering and kidding around with his customers. And if you watched, you could see how they so enjoyed him as well.
What a sense of humor he had. We can recall his favorite jokes. A customer would ask for a special meat cut and specify "extra lean" to which he would reply "do you want it to lean to the right, or lean to the left?" Or if the customer shared one of their jokes, Morris would ask if they ate eggs for breakfast that morning – to which they replied "No, why?" and he would always answer: "Because you're full of yolks (where "yolks" is spoken as sounding like "jokes").
Today, his children – Jack, Betty and Harry – are a chip off that same block. How we so enjoy the gift of gab to anyone that will listen. All of us work in service oriented positions where we understand what Dad taught us: "the customer is your friend and is always right and make them happy". He did.
Dad survived the painful death of two dogs we all loved dearly. One of us, recalls driving with compassionate Morris to take our beloved dog Venny to die in the veterinarian's hands. And one of us recalls joining dad to take his and mom's dear 17-yr old hand-fed and crippled dog named Sonny (under Michelle and Morris's babying care in it's last years) to the vet to be put down and out of it's painful misery.
Dad survived the nuances and challenges of being married to his wife Michelle as he and she challenged each other with the ups and downs all married couples must endure. And still, he and Michelle set the example we would all need to learn – life is not a bed of roses, there will be disappointments and somewhere near the top of the list of who you could count on would be the person you married – for better or worse, until death do you part. To that end, he faced the last years of his life in pain and suffering from congestive heart failure and arthritis and the crippling pain it brought, half wishing it would end finally, but thankful his wife, his son Jack and Jack's wife Rosey did everything in their power to keep him healthy, happy and treasuring the gift of life.
Dad also set an example for all of us – how to be resourceful. Retired by age 65, he spent the last 20 years scouring the neighborhood on trash-collection day — finding bicycles and lawn mowers thrown out, repairing them and selling them at a weekly flea market. The police knew him by name as did the upper-middle class neighborhood. By the time he was too old to do this, multiple people had learned to imitate Morris. This made all of us so proud whereas some would find it shameful. So Morris, lived and embodied resourcefulness — lived and embodied the sayings "one man's trash is another man's treasure" — or "to the victor Morris, go the spoils". For those who are prideful, think about how being prideful is sinful and that one must never be too proud to beg, to respectfully abhor waste from an opulent lifestyle and to "make lemonade when handed lemons". Morris lived his life this way and set a fine, fine example to all of his children and we are proud to call him Dad. Our hero. A survivor.
To that end, we all love our Father dearly and wish him well in his life with his Maker. We know he will have been rejoined with his long lost Mother and Father, sisters and brother in a far better place than this cruel world has to offer, as we all share and enjoy the gift of life in it nevertheless.
In lieu of flowers, donations may be made in Morris's honor to a local Food Pantry of the donors' choice to help prevent hunger.
Carolina Cremation of Salisbury and Charlotte is assisting the Stein family. Online condolences may be made to the Stein family at www.carolinacremation.com.