---
Share
Let the family know you care by sharing this tribute.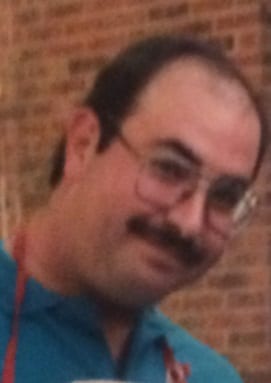 Richard "Ricky" Steve Gearheart, age 54, died on Wednesday, December 10, 2014 at Carolinas Healthcare, Charlotte, NC: Ricky fought the good fight – having to deal with many medical concerns in the past several years and passed away peacefully with his dog, Penny P at his side.
Ricky was born October 29, 1960, Portsmouth, VA., to the late James H. Gearheart Sr., and Maria Gearheart Dougherty. He attended Myers Park High School in Charlotte NC. He owned and operated his painting company for many years becoming familiar to most as "Rick the Painter" prior to becoming a professional truck driver for various companies across the U.S. and Canada with his sidekick Penny P always as his co-pilot.
Ricky was blessed to have been living at Sardis Oaks Nursing, Charlotte, NC for the past four years: He was known to many as the "Mayor" of Sardis Oaks, and could be seen daily at the top of the hill from Sardis Oaks on Sardis Road, becoming a regular landmark to those who passed by in their vehicles, some often stopping to ensure Ricky was ok or offering Ricky one of his favorites, a Coca Cola or breakfast at Phil's Deli.
Ricky is predeceased by a brother Mitchell Steve Gearheart and a niece, Stephanie Leigh Gearheart. He is survived by his sisters Linda Atkinson of Utah, Michelle G. Launey of Charlotte and brothers Jamie Lynn DeJesus of CA, and Alan Lee Gearheart and his wife Marilyn of Candler, NC.
"Uncle Ricky" to his many nieces and nephews, Ricky was known to be quick witted and a little mischievous which many of nieces and nephews share: Shawn Gearheart and his wife Ivana and their two sons, Thomas and Jacob Gearheart, Columbia, SC., Melissa Gearheart of CA, Andrea Dudley and her husband Keith, Megan Nava and her husband Luis and their children, Elizabeth Sarmiento and Aiden Nava, John Gearheart, Lindsay Launey and Bobby Petitt all of Charlotte, NC. Dawn Newberry and her husband James and Dawn's children Caitlin and Celeste Bright. Julie Contreras, her husband Jaime and their children Nicole and Brandon Contreras all of Salt Lake City, Utah.
Ricky's family would like to thank Sardis Oaks staff and the nurses and doctors from CHS Critical ICU —the love and support you showed for Ricky and our family will never be forgotten. Family and friends will gather in January at Sardis Oaks to celebrate Ricky's life: Announcement to follow.
We will miss you Ricky: We take comfort in knowing you are in a better place, thanks be to GOD.