---
Share
Let the family know you care by sharing this tribute.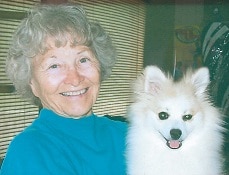 Known to most of you only as GRANNY, Shirley Carr passed from this world, November 13, 2012, 6:10 pm at Robin Johnson Hospice House in Dallas, NC. She had been fighting cancer, diagnosed in August of this year.
Mother of three, she had thousands that she was "Granny" to, young and old. Her last twenty-three years were spent teaching tennis, most recently at Racquet Club of Gastonia and Windyrush Country Club in Charlotte.
She is survived by her daughter and in house son, Hank and Sharon Avants (Gastonia), brother Bob and Ruth Ann Thomas (Lillington), sister-in-law Pat Thomas (Sanford) daughter-in-law Pat Carr (Lakeland, FL), grandchildren: Corene Annette (Cory Ann) Avants-Dockins (Charlotte), Becky Carr Williamson (Lakeland), David Carr, II (Lakeland), Patrick Carr (Orlando) and five great grandchildren.
Preceding her in death were her parents Ray and Corene Thomas, Brother: Donald Thomas, sons: David and Gary Carr.
Granny worked for NC Division of Prisons for fifteen years before moving to Gastonia where she was employed by Gaston Country Club (10 years),Cramer Mountain Country Club (4 years). She was able to do anything from court maintenance to cooking in the Cabaña. She has been an impact in all programs she worked. She played basketball, softball and spent many of her years as a typical mother raising three children. If the baseball coach was sick, she hit line drives to the infield, she supported her children in all aspects of life. Loving to travel,she saw Elvis Presley and Jackson 5 live in Vegas! She showed
horses and loved to work in the garden. (Tomatoes were her favorite!)
Granny was our first sergeant at home and on the court, she will be greatly missed. We hope you will share any story about Granny that you wish. She will forever be present in our hearts and home. Hugs to everyone!
In lieu of flowers, please donate to place a plaque in memory of Granny at Racquet Club of Gastonia, 3116 Howe Dairy Drive, Gastonia, NC 28056.
There will be a celebration of her life held at the Racquet Club of Gastonia at 1:00 PM Sunday, November 18, 2012, a 1:15 PM Remembrance followed by a Cover Dish and Tennis. Please join us. Remember to layer up for the chill!
Carolina Cremation of Salisbury, North Carolina is assisting the Carr family. Online condolences may be made at www.carolinacremation.com.