---
Share
Let the family know you care by sharing this tribute.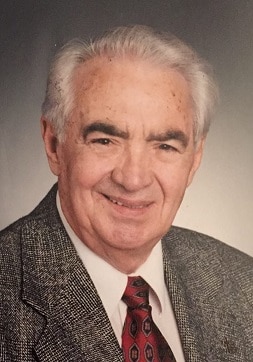 William "Bill" Robert Swope, 86, departed this earth for his heavenly home on December 7, 2014.
He was born May 14, 1928 in Bessemer, Alabama, a son of the late George Sylvester Swope and Katherine Broadhead Swope of Bessemer, Ala. In 1950, he married the love of his life, the late Lena Jeanette Cacioppo – "his Lee" — and they enjoyed a blessed union of 62 years. They began their married life in Alabama, and later lived in California, Pennsylvania and South Carolina before moving to Statesville, N.C. in 2010. Bill was a devoted father to five daughters to whom he leaves countless precious memories filled with laughter, love and butterfly kisses.
Bill served his country in the U.S. Air Force during the Korean War. He was a skilled machinist before pursuing a career in the restaurant industry. Prior to his retirement, he and his wife operated restaurants in Bessemer, Ala. and Rock Hill, S.C. He loved his family, never met a stranger, and was a world-class master of corny jokes. Other things he loved: his wife's spaghetti and meatballs, gospel music, family trips to the mountains and beach, the Alabama Crimson Tide, and Jesus.
Bill is survived by his daughters, Katherine (Ken) Beebe of Charlotte, N.C.; Libby (Michele Pridgen) Wiersema of Florence, S.C.; Janet Lee Swope of Alabama; Jeanine Swope of Statesville, N.C.; Lisa Anne Swope of Statesville, N.C.; 12 beloved grandchildren and eight cherished great-grandchildren.
He is also survived by a special brother-in-law, Frank (Angie) Cacioppo of Helena, Ala.; a special sister-in-law, Janet (Ron) Tabbone of San Antonio, Texas; "adopted sons," Keith Costello of Columbia, S.C., Jason Martin of Statesville, N.C., Dale Wiersema of Florence, S.C., and a host of loving nieces and nephews. In addition to his wife and parents, he was predeceased by a sister, Jane LeFevre, and two brothers, George S. Swope and James M. Swope.
A service is planned for 3 p.m. on Saturday, December 13, 2014 at Landmark Church of God, 2200 E. Broad St., Statesville, NC. In lieu of flowers, the family asks that donations be made to Gordon Hospice House, 2347 Simonton Road, Statesville, N.C. 28625.
Carolina Cremation of Salisbury and Charlotte is assisting the Swope family. Online condolences may be made at www.carolinacremation.com.