---
Share
Let the family know you care by sharing this tribute.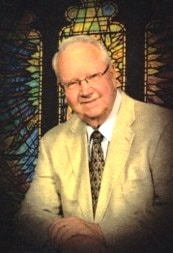 Bobby Eugene Brooks, 81, of Gold Hill passed away on Saturday, April 4, 2015, at the Liberty Lane Hospice House at the W.G. "Bill" Hefner VA Medical Center in Salisbury. Bobby was born on July 18, 1933, in Guilford County a son of the late Edgar Ray and Betty Sue Waynick Brooks.
Mr. Brooks was a Veteran having served in the US Army. He had worked for W. A. Brown, Gamewell Mechanical and Frost Temp, Inc. in Winston-Salem. Bobby was a member of Lyerly Evangelical Church.
In addition to his parents, Bobby is preceded in death by his brother Evin Brooks.
Bobby is survived by his wife of over 63 years, Jeanette Brooks, whom he married on January 19, 1952; son, Wendell Gene Brooks and wife Mandy of Salisbury; daughter, Cheryl Brooks Plozizka and husband John of Granite Quarry; sister, Linda Brooks Martin and husband James of Lumberton; and grandchildren, Wesley Noah Morgan, Nathan Dane Morgan, Samuel Taylor Brooks and Joseph Michael "Joe" Brooks.
The family receive friends on Thursday, April 9, from 11:30 to 12:30 at Lyerly Evangelical Church, 1320 Crescent Rd., Rockwell.
There will be a Memorial Service on Thursday, April 9, at Lyerly Evangelical Church at 12:30 p.m. conducted by Dr. W.C. Gaither, Jr., Pastor, assisted by Rev. David Younger. Burial will follow at the Salisbury National Cemetery, 501 Statesville Blvd, Salisbury, NC, at 2:00 p.m., with Dr. Gaither and Rev. Jim Vickrey presiding.
Memorials may be made to Lyerly Evangelical Church, 1320 Crescent Road, Rockwell, NC 28138, earmarked "Foreign Missions."
Carolina Cremation is assisting the Brooks family. Online condolences may be made at www.carolinacremation.com.
Bobby Brooks wrote his own story with how he lived his life. In the last few months, those who loved him offered many adjectives to describe Bobby.
He was certainly an enthusiast in a variety of hobbies. He restored and rode motorcycles. He did photography and had his own dark room. He built boats. He and the family camped, fished and traveled. He and Jeanette did stone work, built a lighthouse replica, and gardened. But perhaps his favorite hobby was restoring and flying airplanes. He got his pilot's license in 1949 and progressed to instrument and multi-engine rating. He owned eight airplanes, some of which he pulled out of thickets in pieces and reassembled.
After duty with the Army, Bobby worked in commercial refrigeration, automotive body work, and HVAC control engineering. He traveled halfway around the world for his occupation.
Bobby accepted Christ at age 17, and his life changed dramatically. He resolved to serve the Lord and tell others about Him. Music became a big part of his life, and he began singing in choirs and solos. He directed the choir at Southside Baptist Church for nearly twenty years. He never failed to give his testimony when singing.
He often claimed miracles in health issues, and he praised God for recovering from a brain aneurysm, triple bypass surgery, pancreatitis, and colon cancer.
In 2005, Bobby felt a calling to do an extensive Bible study about angels—their work, names, positions. In 2014, his book, "God's Eternal Light (A Study of Angels, Past, Present and Future)" was published. The book went into a second printing, and it was shared in the Philippines and West Africa through missionaries.
A brother in Christ called him "teacher," for he liberally shared what he had learned from his personal study of the Scriptures. He taught Sunday School and occasionally filled in for Pastor Gaither at the Wednesday Bible study at the East Y. In Bible study groups, Bobby would politely make comments that would deepen others' understanding. Bobby realized, however, that one must be a good student of the Scriptures before he could be a good teacher, and he spent many hours in study.
Others might refer to Bobby as a "numbers" person, referring again to his extensive study of the Scriptures. Numbers had special meanings in the Bible, and Bobby had many of those meanings memorized. He would know, for example, that the number "eight" in the Bible referred to a new beginning, a "Resurrection," a "Regeneration." Jesus rose on the eighth day of the week, which became today's "first day" of the week. In Greek, letters have number values, and the value of the name for Jesus is 888. In music, the octave has seven notes, and the eighth note marks a new octave.
We might say that Bobby was an "eight." He went to see his Lord on the eighth day…Saturday, 6:16 p.m., after the Jewish Sabbath ended at 6:00 p.m., and 1:16 a.m. on Sunday in Jerusalem time. His "new beginning" was a perfect "eight."