---
Share
Let the family know you care by sharing this tribute.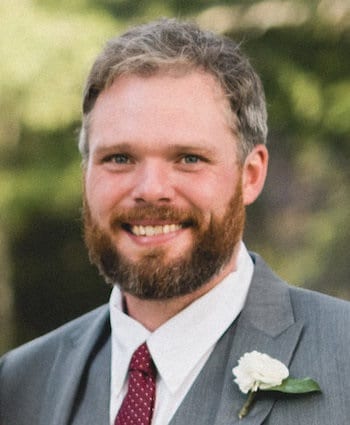 Brett Marshall Gemberling, 39, of Charlotte, N.C., passed away on Thursday, June 30, 2022.
He was born December 9, 1982 in Ephrata, P.A., to Barry Lee Gemberling and Jane Ann (Brewer) Gemberling. He spent most of his childhood in Lititz, P.A., before his family moved to Charlotte in 1993. There, he attended Reedy Creek Elementary School and Piedmont Open IB Middle School. Brett enjoyed playing youth soccer, basketball, baseball, and football, both in school and in the community.
While attending Independence High School, he was an award-winning varsity tennis and varsity soccer player (playing the position of goalie). Also in high school, he embarked on his first and only trip out of the country to Italy, an experience that he often reminisced about.
Drawn to the mountains and the cool temperatures that he enjoyed in Pennsylvania, Brett chose to attend Appalachian State University in Boone, N.C., where he studied journalism. While at ASU and living in Boone, he played soccer for the university club team and on community leagues, establishing lasting friendships with his coaches and fellow players.
A new chapter of Brett's life began when he picked up a part-time job working in the kitchen at the Red Onion Café. This opportunity blossomed into a lifelong passion for cooking and food preparation that drove a career in the service and hospitality industry.
The care and attention to detail he brought to his work was evident, and eventually, he was promoted to assistant executive chef and kitchen manager. In partnership with his colleagues at the Red Onion and with support from local food vendors, Brett helped transform the restaurant into a local gem known for its farm-to-table culinary delights. He even began growing food for the restaurant as part of a volunteer collaboration at Springhouse Farm in nearby Vilas, N.C.
One of Brett's signature creations for the restaurant, the Blue Ridge Plate, sold out on many occasions. It featured bibb and red leaf lettuce, dijon-thyme vinaigrette, roasted beet medley, curried apples, cherry tomato medley, micro greens, and crispy fried goat cheese.
During this time, Brett also discovered an abounding love of nature and the outdoors. He spent many weekends camping, hiking, and waterfall diving with friends at beloved spots along the Blue Ridge Parkway, such as Grandfather Mountain.
After 17 years in Boone, Brett wanted to be closer to home to help his aging parents. In 2018, he returned to Charlotte and expanded his career as a chef, working in dining services for Southminster and taking on additional opportunities to cook at well-known Charlotte area eateries, including the four-diamond McNinch House Restaurant.
A knee injury prevented Brett from continuing to play soccer, but he fell in love with the sport of disc golf, to the point where he played nearly every day, sometimes twice. His favorite course was Reedy Creek Park, but he also enjoyed playing at Sugar Creek and Idlewild Road. He was known to wear brightly colored sneakers and shorts that reflected the colors of his discs, and he played hip hop and electronic music on a Bluetooth speaker that he carried with him.
During the final 10 months of his life, Brett worked in the kitchen at 300 East, where he felt safe and valued by his family of coworkers. He often told friends and family that his manager and fellow staff were among the finest he'd worked with in his 20-year career. Despite the challenges placed upon the food service industry in recent years, Brett was dedicated to his craft and derived great satisfaction from connecting people through food.
Brett grew up an avid fan of Penn State University football – he attended five bowl games in Florida and numerous trips with his father and sister to State College, P.A., for home games, always yearning for a national championship year after year. He also loved his Carolina Panthers, and each fall season, Brett's life was monopolized – for better or worse – by fantasy football, as he managed his own league and participated on several teams at once.
He enjoyed trips to the shore in Avalon, N.J., as a child, and in his adulthood, he spent many long weekends in Charleston, S.C., with his family, fishing for red drum with his sister and unapologetically critiquing meals at some of the city's finest dining establishments.
Though he had many accomplishments in life, Brett was proudest of his relationships with his family and the hundreds of lives he touched with his friendship. His friends and family will tell you that he was a selfless person who always put the needs of others before his own. He never met a stranger, and he could talk to anyone about any subject, especially given his great knowledge of what his family affectionally called "useless information." He was also very proud of his well-kept collection of houseplants, which he slowly allowed to take over his home.
Brett was also known as the ultimate goofball with a quirky sense of humor that consisted of spot-on impressions and the repeating of famous television and movie quotes. It was impossible not to laugh when Brett was around, and his hilarious "one-liners" will be remembered and repeated by those who loved him for years to come.
We wish he would have been given more time with us; he will be deeply missed by many.
Brett was preceded in death by his uncle, Todd Gemberling, and his grandparents. He is survived by his loving family: father, Barry Gemberling; mother, Jane Carroll (Richard Carroll); sister, Kyra Molinaro (Tyler Molinaro); six uncles and aunts; and many cousins.
The family will hold a celebration of life on Aug. 27 at Springhouse Farm. In lieu of flowers, please share with us your memories of Brett and how he touched your life.
Carolina Cremation of Charlotte and Salisbury is assisting the Gemberling family. Online condolences may be made at www.carolinacremation.com.