---
Share
Let the family know you care by sharing this tribute.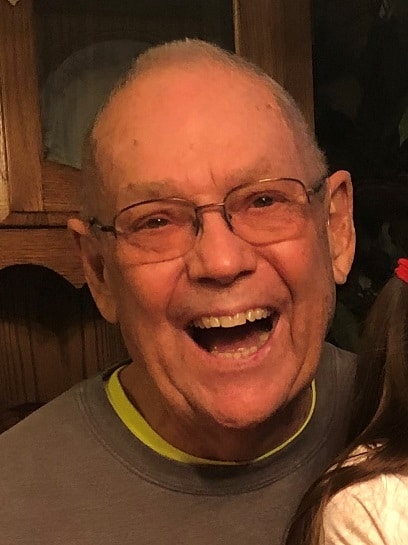 Dewey Wilson Horne, age 83, entered his eternal home January 18, 2021.
He was the son of the late Dewey Lee Horne and Sadie Little Wilson Horne Saulter, born October 27, 1937. Dewey grew up and attended school in Kinston, NC where he met the love of his life, Patricia Humphrey. They were married in November 1956.
Dewey joined the Air Force out of high school. With Pat by his side they lived the military life for 8 years
and had 2 daughters. After spending time in Kinston, NC and Hampton, VA they finally made Charlotte,
NC their home in 1972, where he worked as a piping designer until his retirement in 1999.
His favorite activities included canoeing, reading, Panther's football, looking up places on Google Earth,
Sudoku, sharing an adult beverage with his girls, watching the birds at the birdfeeders, planting flowers
with his great-granddaughter, celebrating Christmas (Horne Family style), the annual family beach trip,
visiting Stacks Restaurant (for the food and visit the staff), golfing and lunch with their buddies, going to
the gym, walks, card tricks, watching his grandkids sports activities and dance recitals, taking his great-
grands to the park, bike rides on the greenway and any time spent with his family and friends.
His less than favorite activities that he did without complaint for the love of his family included fishing,
watching Hallmark Christmas movies and taking Pat to Hamrick's or Walmart.
Dewey was stubborn, opinionated, a hammerhead and on a rare occasion he could be a royal pain in the
you know what. BUT he was also big hearted, a protector, provider, fixer, generous, sweet natured,
honest, trustworthy, steadfast, wise, dependable, humorous and loving. He touched so very many lives
in his everyday, ordinary, regular guy, put you at ease, tell you a joke, listening, never met a stranger,
laid back kind of way. He was at peace with God, with his life and was a lifelong member of Disciples of
Christ churches. Our tears are for us. His body is healed and he is in a much better place. He is Home.
We will miss having him with us but will carry our memories in our hearts. The world is a much better
place for having had Dewey leave his mark in it.
Dewey is survived by his wife of 64 years, Pat Humphrey Horne (his "Paddle"); daughters, Vickie H
Marcone (Dave) and Wendy H. Bennett (Jeff); grandsons, Caleb Brackett (Kerri) and Trevor Bennett;
granddaughter, Sydney Bennett; great grandchildren, Kayla and Camden Brackett; brother, Rex Horne
(Carol); niece, Rebecca Worters; nephew, Paul Horne; numerous cousins and countless friends that were
family to him.
The family would like to say a special note of thanks to Hospice and Palliative Care of Charlotte and
special caregivers: Donna Stewart, Grace Davies, and Ashly Richardson for providing comfort and care in his final weeks.
In lieu of flowers please consider making a donation to the Autism Research Institute:
https://www.autism.org/donate-in-honor-of-dewey-horne/
A memorial service will be held at a later (safe) date. Prepare your Dewey stories and memories to share. We know there are many and look forward to hearing them and celebrating him.
Carolina Cremation is assisting the Horne family. Online condolences may be made at www.carolinacremation.com.