---
Share
Let the family know you care by sharing this tribute.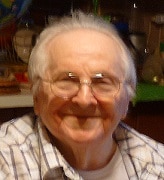 Foil David Swing Sr., 94, of Lexington, passed away on Thursday December 25, 2014 at the W.G. (Bill) Hefner VA Hospice House in Salisbury, NC surrounded by family. Mr. Swing was born on April 30, 1920 in Davidson County to the late Roby Swing and Louise Beck.
Foil proudly served his country in the United States Navy during World War II. Using electronics training received in the Navy, he began his post-war career by founding Swing's Radio and TV Repair in Lexington. Afterwards, he owned and operated the Western Auto Store in Welcome for almost 50 years. He enjoyed fishing on local lakes and at North Carolina beaches and was a committed do-it-your-selfer. Mr. Swing was a member of Reeds Baptist Church and the Welcome Chapter of AMVETS.
In addition to his parents, he is preceded in death by brothers, Beecher and Roland Swing and sister, Polly Newkirk.
Foil is survived by son, Foil David Swing Jr. of Kailua-Kona, HI; daughters, Jane Young of San Antonio, TX, and Susan Swing of Elgin, IL; sisters, Duette "Dee" Smith of Seaford, DE, Caroline Honeycutt of High Point, Nancy Andrus of Summerville, SC, and Adena Wall of Lexington; brother, Reece Swing of China Grove; grandchildren, Meredith Houser of Cary, Christopher Young of Raleigh, and Jeffrey Young of Greenville; and great grandson, Zachry Houser of Cary.
Service: Fri., Jan 9, 2015 at 1:30 pm, Forest Hill Memorial Park Mausoleum, Lexington. Visitation: 12:30 pm prior to the service in the Mausoleum.
The family wishes to thank the many caregivers from Bayada Home Health Care, his VA medical foster home, and VA Hospice House for providing loving, attentive care to their father during the last stages of his life.
In lieu of flowers, memorials may be sent to the Carolina Coastal Land Trust at 131 Racine Dr., Suite 202, Wilmington, NC 28403 (910) -790-4524 or at http://www.coastallandtrust.org/ or to the W.G. (Bill) Hefner VA Medical Center in Salisbury, NC by contacting the Voluntary Service Office at (704) 638-9000, ext. 3409.
Carolina Cremation of Salisbury and Charlotte is assisting the Swing family. Online condolences may be made at www.caorolinacremation.com.