---
Share
Let the family know you care by sharing this tribute.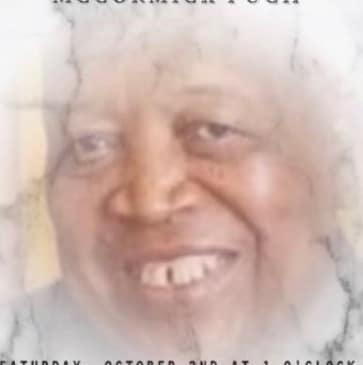 Welder & Retired McCormick Pugh zest for life will be remembered with love long after passing.
McCormick Pugh passed away on September 24, 2021 at age 78 after a courageous battle with heart Issues, surrounded by loved ones who will strive to honor his memory by living theirs lives to the fullest.
The simplest pleasures in life, such as spending time with his family, traveling, watching race cars, playing slots, going to the mail box brought the greatest joy to him.
McCormick Pugh born April 1, 1943 to Lula Bell Mingo(Pugh)Deceased) raised by Annadell & Cooley Pugh in Darlington, SC.
McCormick Pugh Is survived by his wife Mae a unity of 56 years together. He worship the ground she walked on. He had four children. (Daughter) Carol Gunter, (Son) Michael Pugh, (Son )Bryant Pugh, (Son) Cory Pugh. Seven Grand children Tranice Depew, Jamal Richardson, Delaino Davis, Dejourie Fullerton, Nakia Johnson, Nyasia Dailey, Robert Littlejohn, Eliana Pugh and Jordan Pugh. Four Great Grands Amari Trapp, Quintin Trapp, ZeYhani Richardson, Tristan Bennett and Deliano Jr Davis. He has six brother (Deceased) MacIvory Pugh, (Deceased )Allen Mingo, Albert Mingo, Walter Pugh, Henry Mingo and Robert Mingo. Four sisters( Deceased) Carlina Mingo, Shirley Mingo, Willie Mae Byrd and Bernetha Johnson. God Daughter Jacqueline Moss,God Son Marques Smallwood.
He shared special moment in his life with Charles & Elease Paterson, Donald & Louella Slater, James & Mary Bacote George & Adriane Crawford, Troy Clyburn, Randell Smith, Ramazeea Belton, MazierBelton and Ronnie & Gale Hill. He has a host of nieces and nephew,cousins and other relatives and friends.
I have fought the good fight, I have finished the race, I have kept the faith. Now there Is in store for me the crown of righteousness, Lord, the righteous Judge, will award to me on that day and not only to me, but also to all who have longed for his appearing.