---
Share
Let the family know you care by sharing this tribute.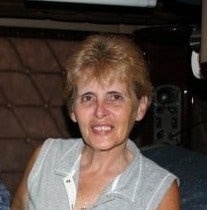 Mrs. Patti Lee Klicka, 58, of Salisbury, NC was born in Columbus, Ohio on March 23, 1954 and passed away on March 31, 2012 at her home. She was married to Mr. Zdenek Klicka formerly of the Czech Republic.
Patti is preceded in death by her mother, Dorothy Jane Alexandar Eubanks of Florida; her son, Robert Wayne Mason of Kannapolis, NC; her step-daughter, Katerinka Klickova` of the Chezch Republic; and by her parents-in-law Jaromir and Marie Klicka of the Chez Republic.
Mrs. Klicka was a cross country Truck Driver with her husband and took pleasure in traveling. She spent time in the Czech Republic with her husband's family and enjoyed reading, working puzzles, and playing games on the computer. Patti loved her family and friends and enjoyed spending time with them.
Mrs. Klicka is survived by: Husband; Zdenek Klicka of Salisbury NC, Father and Step-mother; Randy and Hela Hummel of Medical Lake, WA, Son; Daniel James Mason of Salisbury, Step-Sons; Pavel Klicka and wife Jana of the Chez Republic, and Tomas Klicka of the Chez Republic, Daughters; Dori Facemyer and husband Joseph Facemyer, Jr. of Salisbury, and Sadie Michele Rose and husband Tola Rose III of Concord, Step-Daughters; Zdenka Klickova`, and Marie Klickova`, Brothers; Gene McClary of Tallahassee, FL; Chris Hummel and wife Karen Hummel of Medical Lake, WA; and Daniel Hummel of Medical Lake, Washington, Sisters; Cher Sawyer and husband Dave Sawyer of Tallahassee FL, and Joani Blair and husband Dan Blair of Tallahassee FL.
Mrs. Klicka is also survived by her best friend Becky White of Joplin, MO and 13 Grandchildren: Todd Facemyer, Daaron Presnell, Kayla (Mason) Barbee, Wesley Osborne, Hana Facemyer, Daniel Mason, Matthew Facemyer, Michaela Van`curova`, Sarah Parton, Tola Rose IV, Ladislay Kriz, Courtney Rose, Savana Mason.
A Memorial service will be held at 5:00 PM, with visitation following on Thursday, April 5, 2012, at Trading Ford Baptist Church, 3600 Long Ferry Road, Salisbury, NC 28146, conducted by Rev. Mike Motley.
Carolina Cremation of Salisbury, NC is assisting the Klicka family. Online condolences may be made at www.mycarolinacremation.com.