---
Share
Let the family know you care by sharing this tribute.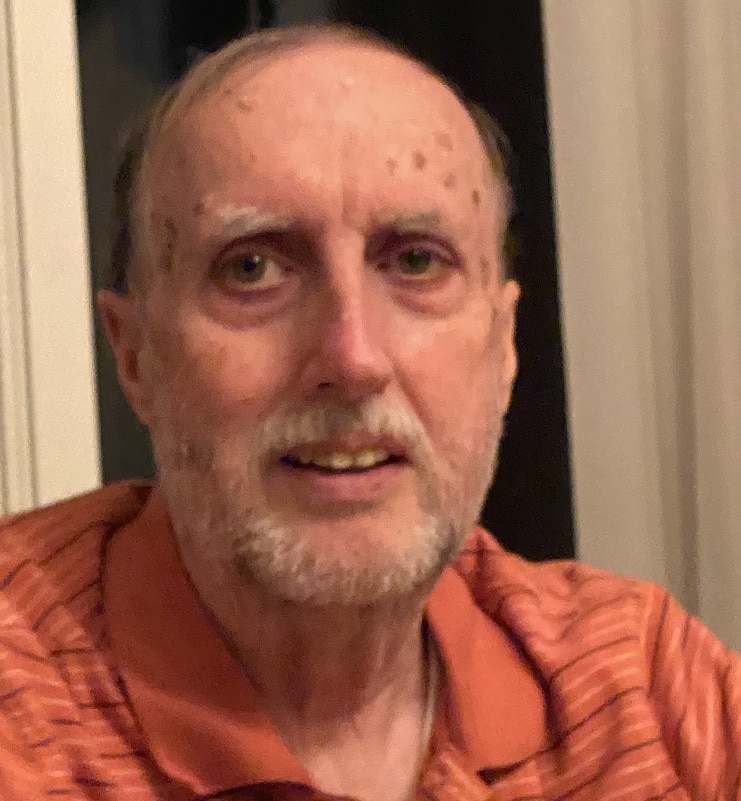 Robert H. "Bob" Lavin, 74, of Cornelius, North Carolina died on September 29, 2021 after several years of declining health with Alzheimer's disease.
He was born on September 8, 1947 to Harold L. Lavin and Grace S. Lavin in Boston, Massachusetts, where he grew up and attended Boston English HS and Northeastern University, spending childhood summers at Sebago Lake, Maine. He began his career with computers in 1967 at John Hancock, where he met his wife, Alison, as a fellow programmer. Bob continued his career at W.R. Grace and Digital Equipment Corp., before starting Business Systems Associates, Inc. with a partner, and later his own Penguin Systems, Ltd. Focusing on materials handling and inventory control, in collaboration with Charlotte-based Mantissa Corp., he designed and installed complex systems for automating large distribution centers for clients including Nike, Adidas, Columbia Sportswear, and others.
Never much concerned about fashionable attire, Bob was uncharacteristically vigilant when acquiring a new client, often shopping for new wardrobe items, to avoid wearing a competitor's logo in the new workplace!
While living in Wayland, Massachusetts for 20 years, Bob was an active member of Sudbury United Methodist Church. He was especially devoted to the Men's Prayer Group, actually a covert penny-ante gambling fellowship, whose members attested to much fervent prayer during their monthly meetings. He loved cars and dogs; he enjoyed playing pool and ping-pong and shooting baskets with his sons, and golfing with friends.
In 1995, Bob and Alison moved from Wayland to Cornelius, North Carolina on Lake Norman, where he loved to watch the great blue herons on the dock, ospreys nesting nearby, songbirds (and hawks) around the feeders. He was a member of Davidson (NC) United Methodist Church.
Bob was a lifelong fan of Boston sports teams: the Red Sox, Bruins, and Celtics, and (from their founding in 1959 as the BOSTON Patriots) the New England Patriots.
His early record collection included classical, folk, bluegrass, sacred organ music, and his favorite, Bob Dylan, whose voice (even in Bob's final weeks) could still elicit a small smile and whispered comment, "My man!"
Bob is survived by his wife of 53 years, Alison Taylor Lavin; sons James K. Lavin (Yingmei) of New Canaan, CT and Eric W. Lavin (Kelly) of Cornelius, NC; grandchildren Colin and Spencer of Cornelius, NC and Daryl and Lia of New Canaan, CT; cousin Ron (Barbara) Stone of Shillington, PA; and his canine buddy, Brewster.
First Baptist Church in the Jamaica Plain section of Boston was central to Bob's family and attended by several generations of his relatives. Founded in 1842 and housing an historic pipe organ, the building suffered a devastating fire in 2005; for several years the small congregation met in a doublewide trailer on the lawn, committed to rebuilding and resurrecting a vital community ministry. Now the neighborhood is bustling with activity, multicultural restaurants and shops, and especially since the advent of COVID-19, many individuals and families with tremendous need. The church, partly restored, now houses a daycare center, art center, food pantry and hot meal delivery program for food-insecure neighbors, space for community groups, and more — all under the banner: First Baptist Jamaica Plain: Many Cultures, One Faith!
In recent years with dementia, Bob still spoke with concern about the "big fire at my church," and was pleased to hear about the church's growth, diversity, and dynamic community outreach.
Contributions in memory of Bob Lavin may be made to the Capital Campaign, the Food Justice program, or other ministries of the church via the website, https://www.firstbaptistjp.org/ or by mail to First Baptist Jamaica Plain, 633 Centre St, Jamaica Plain, MA 02130; 617-524-3992.
Due to COVID-19, the family will hold a celebration of Bob's life at a later date.
Carolina Cremation is assisting the Lavin family. Online condolences may be made at www.carolinacremation.com.