---
Share
Let the family know you care by sharing this tribute.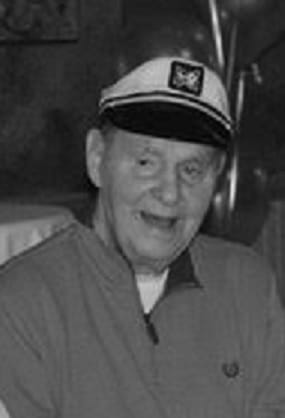 APRIL 23, 1928 – DECEMBER 26, 2022
Our father, Warren John Roggeman, was born April 23, 1928 in the Bronx, NY to Gerard John and Caroline (nee Hecht) Roggeman.  He was an only child.  He
graduated from Cardinal Hayes High School in 1945 and went on to join the army the same year serving in the 3281 st Ordnance Base Depot on Okinawa.
After serving, he returned to the States and on the GI Bill attended and graduated from Mt. St. Mary's College in Emmitsburg, MD.  He met our mother, Cathleen Ann
Rutherford, also an only child, while in high school in NYC and they married on June 18, 1949 while our Dad was in college.  In the early years, our mom and dad lived in Fredericksburg, MD while he continued with college.  He stood 6' 4" and played basketball for St. Mary's, an accomplishment for which he was very proud.   Mom and Dad would have their first child in 1950 before Dad graduated in 1951 and they would go on to have five more.  Quite a feat for two only children.
Dad began his early working career at Bendix Aviation in 1952 in Towson, MD and relocated to Lodi, NJ in 1953 by that time Mom and Dad had two children.  Dad would spend over 30 years at Bendix in various staff and engineering roles.  While at Bendix, he studied engineering and electronics at NYU and Newark College of Engineering.  His early experience encompassed reliability engineering on the B58 Hustler Bomber, Pershing Missile and the Apollo space program.  Dad then served two years as Field Failure Analysis chairman on the Minuteman Missile program representing reliability engineering.  In 1967, he took advantage of an opportunity to move his family of eight to Littleton, CO to work on the Sky Lab program with Martin Marietta.  He returned to Bendix in 1971 and retired in 1982.  He then joined ITT in Clifton, NJ as a Reliability Engineer working on project related to various fighter jets.  He retired, again, in 1990. Dad had a passion for writing, especially short stories in prose.  His vocabulary was extensive as was his story telling.  At the time we were growing up, we thought his stories were extraordinary and we would listen to any story he would tell.  Little did we know that all the stories were true; he was teaching us history lessons but he made them so interesting, we did not know that.
Our Mom and Dad moved from Middletown, NY in 2009 joining their daughter Lynn and her family in Matthews NC.  Prior to moving to NC and while in their mid-70's Mom and Dad participated for many years in the NY Empire State Senior Games and won many medals for shuffleboard. They also took an active interest in Scripts for Seniors and would travel to senior centers around Orange County NY to read funny scripts from the Honeymooners and Carol Brunette series. They got many laughs. Dad took up painting when he was 79 and when he was 89 years old, he entered one of his paintings in the NC Senior Games in 2017 and won a Bronze Award.  He specialized in old barns, light houses and the foothills of the Rockies as seen from our home in Littleton, CO.  We are all blessed to have more than one of his paintings and we cherish them.
Our Mom and Dad were married 65 years at the time of our moms passing in 2014.  Both Mom and Dad were lifelong Catholics and were communicants of St. Joseph Church in Middletown, NY for over 35 years and then St. Luke in Mint Hill, NC until their passing.  Our Dad would share a great, late life love with Sara Fitzgerald for the past 7 years.  They also shared a passion for painting.  Both were the parents of 6 children each!
Surviving both Warren and Cathleen are their devoted children and their families; Mark and the late Rosalie Roggeman; Lynn Roggeman Brown and Alan Larcara; Paul and Barbara Roggeman; Lori Roggeman Cramer and Carl Bloat; Lisa Roggeman and Mark Costello, and John Roggeman and Cyndee Lawrence, as well as 14 Grandchildren; Kristy, David, Michael, Morgan, Jenna, Cole, Luke, Patrick, Caroline Rose, Caroline Grace, Eric, Shannon, Mac and Rose Marie and 9 great grandchildren; Tyler, Logan, Stella, Harlow, Arriana, Ellie, Max, Owen and Jane Daisey.
A celebration of life Mass will be held at St. Luke Catholic Church on February 10th at 1 pm in Mint Hill, NC and also at St. Joseph Catholic Church in Middletown, NY at a later date.
Carolina Cremation of Charlotte and Salisbury is assisting the Roggeman family. Online condolences may be made at www.carolinacremation.com.