---
Share
Let the family know you care by sharing this tribute.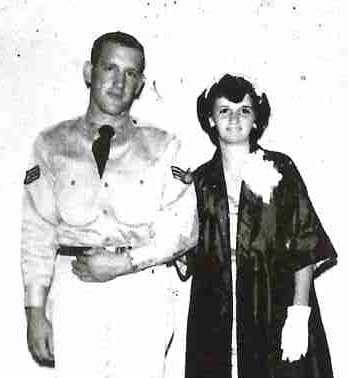 SMSGT (USAF RETIRED) Willie L. "Billy" Pollard, of China Grove, NC died 4 August 2021 at his home. He was the son of the late Kermit Pollard and Edna Robinson Pollard of Route 3, Roanoke, Alabama. He was born February 21, 1936.
He was preceded in death by the love of his life, Carolyn Scott Pollard, whom he married on July 15, 1956. They are "TOGETHER-FOREVER, AT LAST"; survived by daughter Dawn Josiah of China Grove, NC; Bonus daughters Christy Faymonville of Foster City, Michigan and Vanessa Perry (Fred) of Kannapolis, NC; two granddaughters – Amanda "Stinker" Josiah of Landis, NC; Madison Faymonville-Stark (Tyler) of Kings Bay, Georgia; one grandson Eli Faymonville of Marquette, Michigan and two great-granddaughters, Lotte Josiah and Carolyn Josiah of Landis, NC. He is also survived by one brother, Jimmy (Helen) Pollard of Napoleon, Alabama and one brother-in-law, Clayton (Johnnie) Scott of Wedowee, Alabama.
He was a loving, caring husband; a loving Daddy; a doting Grannydaddy, Papa and Great Grannydaddy-"Dada" and he always cared for the people who worked where he worked. His attitude towards life and death were "outside the box" as evidenced by this obit which he wrote while he was alive.
Willie graduated from Woodland High School, Woodland, Alabama in 1953 and from Troy State University, Phenix City Branch, in 1980, with a degree in Personnel Management.
He served in the United States Air Force from 1953 till 1974, retiring as a Personnel Superintendent. He was stationed at Lackland AFB, Texas (3 times), Scott AFB, Ill (2 times), Anderson AFB, Guam (2 times), Pinecastle AFB, Florida (now Orlando International Air Port), Randolph AFB, Texas, Keesler AFB, Mississippi, Vandenburg AFB, California, Beale AFB, California, Loring AFB, Maine, Da Nang AFB, Vietnam. He has traveled to 49 of the 50 states.
He had many interesting part time jobs while in the Air Force. ORLANDO, FLORIDA – Service Station Attendant, Short Order Cook, Service Station Evening Manager, Route Supervisor for a Janitorial Service. VANDENBURG AFB – Evening Dean for Allan Hancock College. SAN ANTONIO TEXAS – Service Station Attendant, Night Manager for Service Station, Salesman for Hoover Vacuum Cleaners, Convenience Store Clerk. ANDERSON AFB GUAM – Movie Projectionist.
After retiring from the USAF he worked for West Point Pepperrell, West Point, Georgia from 1974 till 1984. He started at Dunson Mill in Lagrange, Georgia as a mill trainee, shift supervisor and then Assistant Personnel and Safety manager. He then transferred to Lanier Mill, Valley, Alabama as Personnel and Safety director. From there he transferred to Langdale Mill in Valley Alabama as Personnel, Training and Safety Director. He received "Accredited Personnel Manager" from The Personnel Accreditation Institute in 1981. This required an 8 hour examination in all aspects of Personnel. He was terminated from Langdale in order to make a job for a relative of the company President.
He worked for Linn Corriher Mills (later Dominion Yarn) from 1984 till the company was sold to Parkdale Mills. At Linn Corriher he was Employee Relations Manager, Safety and Health Manager, Worker's Compensation Manager and was Manager of Linn plant for a period of time. He was Personnel and Safety Director for the Linn Plant at Parkdale until he was re-organized.
He was a Life Member of the AFSA(Air Force Sergeants Association); Life Member of the VFW; past member of the Landis Lions Club; past chairman of the Friends of Rowan Public Library; past board member of the Friends of RPL foundation; past Chairman of the Southern Piedmont Safety Council which under his leadership received the Governor's Award of Excellence in 1989; past Member of the NC Statewide Safety Council and Chairman of The Textile Section of the Safety Council; past chairman of the Rowan County JSEC; member of the Cabarrus County JSEC; past member of the Rowan County Personnel Council; past member of the Cabarrus County Personnel Council; a Certified Pulmonary Technician: a Certified Audiometric Technician; a Certified Drug Tester.
He also received many ribbons and awards during his time in the Air Force. But most of all he was Carolyn Scott Pollard's beloved husband. His family and friends knew that he would move heaven and earth to make sure she was taken care of and loved. The love they had was something to behold. They were the best of friends, believed in each other, cheered each other on through life and held onto each other when life tried to knock them down. Carolyn's last words to her man was "Oh, there you are. And there are those strong, strong hands that I have held onto all my life." Now they are together again – holding hands and smiling at each other with all the love they have.
Services with military honors will be held August 16, 2021 at 11:00 am at the Salisbury Veterans Cemetery, at which time his & his beloved's ashes will be interred. Casual attire. Instead of flowers, donations in his memory can be made to your local library or veteran's organization.
The family of Billy & Carolyn want to thank Trellis Supportive Care for their amazing care of these two precious people. Your gentleness and attention to them and us did not go unnoticed during their last days with us. We are grateful for all you did.
Carolina Cremation of Salisbury and Charlotte is assisting the Pollard family. Online condolences may be made at www.carolinacremation.com.